---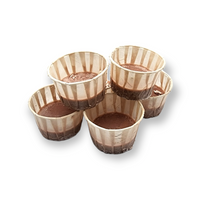 We use left over candle wax to pour these fire starters by hand. The cups burn great and create a nice large flame to get your fire going quickly and easily!

Each cup is about 2oz and made of wax paper.

These will burn for up to about 10-15 minutes, its best to keep as flat as possible.

Be sure its in a place that a little wax could drip, although any spillage should end up burning off in your fire.
We can provide retail packaging for these on larger orders, contact us to learn more!